Do you know where your children are?
Does anybody else remember that commercial (even though they said it's 10pm, not 4:37 am?). Unfortunately, at 4:37 am, I know exactly where my "kid" is. Why? Because he won't leave me alone!!!!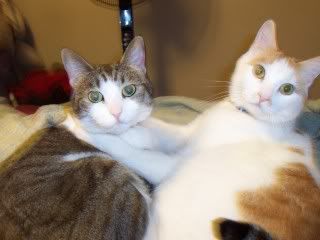 No, he's not a bi
ological child, just my bratty cat
Pumpkin. That's him right over here------------->
He's the orange one on the right. So, he may look all sweet and cuddly, but don't let his looks fool you. At 4;15 this morning, he decided that he wanted his mama to wake up so he can play, so he decided to wake me up by lying on my face, pulling himself up on our headboard (which he KNOWS is a no no) and pawing at me.
That stuff usually sweet and I usually soak it in, but at 4:15 in the morning, I wasn't exactly in the mood for it and now I'm wide awake because of this brat. Oh well, maybe I can accomplish some stuff in the next couple hours before Eric wakes up.