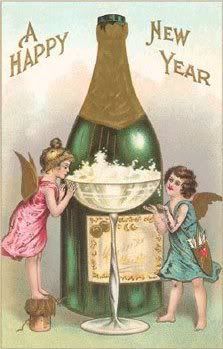 I can't believe the new year is here already. I realize, as I get older, every year flies by quicker than the last. I remember a time when it would seem like for.ev.er for Christmas to get here. Now it just seems like I blink and Christmas is over and it's time to put my Christmas stuff away.
Every year, around this time, I just randomly think of things that I want to see happen in the new year, and every year without fail, I never see
any
of it happen. This year I want it to be different. Instead of randomly selecting things
I
want to see happen, I decided to pray about it first. I thought that since God knows what it best for my life, I should seek Him first and see if He brings anything to my mind that I should work on. Ask and ye shall receive, right? Well, I asked and I received!
One of the things that came up was the use of my time. I tend to fill up my time with things that can be good, but also take away from more important things. Things like cleaning my house, reading my Bible or spending quality time with my husband. For instance, blogging can be one of these things. As other bloggers have noted in the past, blogs can be great. I can glean information in things like cooking, home organization and even great spiritual insights. The bad things about blogs, however, is that they are a real time sucker. It's amazing how time flies when I get online and start reading some of my favorite blogs. I just need to scale back on my reading time and make sure my home life doesn't suffer because of it.
Another thing that came to my mind was that I do need to spend more quality time with Eric. We both (more often, it's me) get so busy with other things that nearly a whole day goes by and we rarely said two words to eachother. I want to end that crazy cycle and begin to just turn distractions off and sit and talk, play games or hang out with Eric.
A great way that I can spend time with him, and something else that God brought to me, was that we really needed to spend some time in family worship. Eric and I have batted the idea back and forth for a couple of months now, but this is something that's stirring more in my heart now. I'm not sure how that is going to look for us at this time, but Eric and I are planning spending time together, each evening, praying, worshiping and spending time in the Word. We may even listen to a sermon once and awhile. All I know is that it is imparitive to our spiritual growth and our marriage that we spend more time in God's word as a unit.
I also realized that I needed to have a more structured quiet time. I know that a quiet time is not demanded of us as Christians, but I do know that I do better if I have read the Bible and spend some time in prayer. It's amazing how just spending 15 to 30 minutes each morning can really effect my day. So in saying this, I am planning on getting up early each morning so that I can spend some quality time with God. I've had sporadic quiet times my whole life, but I am now wanting something steady. None of this once every couple of weeks thing.
Since I am wanting to get up early each morning, I will need to get to bed earlier in the evening. I know this is easier said than done, but this is something that I really need to work on. Not only because I will be waking up a little earlier, but simply because I just need the sleep. I am hoping to get to bed no later than 10, but even earlier would be great, if possible.
The last thing that God brought to my mind is the biggie for me. It may seem small to others, but for me, it's something I really do struggle with. Organization and structure in my daily life. I am not a structured person. I know I have mentioned orginazation in the past, but I haven't really grasped the concept yet. Sure my house is clean (most of the time), but you don't know what's crammed in my drawers and closets. Actually,
I
don't know what's crammed in my drawers and closets. The big problem with this is that I'm married to a man who thrives on orginazation, structure and lists and my way of life drives him crazy. Instead of making him an unorginazed slob like me, I realized that I needed to make some changes. I don't know how I'm going to do it, but I am going to work on some sort of schedule for us that will work for us. This is something else I will be praying for because I don't know the first thing about schedules. I am hoping to read some books on orginazation when I have the chance and hopefully I can learn some stuff.
The last thing I want to mention in this huge post of mine, is the verse that God has put in my heart to be my verse for the year. I am hoping to make a yearly tradition from now on, to have a piece of scripture that can define how I see the up and coming new season in my life. This year's verse is 2nd Chronicles 7:14:
"if my people who are called by my name humble themselves, and pray and seek my face and turn from their wicked ways, then I will hear from heaven and will forgive their sin and heal their land."
I am praying that this year I can remember to pray and seek His face at all times. I know my sin is already forgiven, but I'm looking forward to see what "healing" God has in store for me.