A few weeks ago, I was lurking on a "mommy blog" that I enjoy reading.
http://bethany.preciousinfants.com/2006/12/29/italian-herb-bread.aspx
(I may come out of lurking mode and start commenting. Just a warning.)
I had never made bread before (I have used a bread machine, but I used a pre-packed mix and all I had to do was add water, so I'm not counting that) and after reading that wonderful recipe and seeing the wonderful pictures that Bethany posted, I decided to be brave and try to bake that bread. Like I said, I had never done it before, so going into it, I had no idea what to expect. All I could picture was me and my kitchen covered in flour. I went the store one determined woman, bought the ingredients I needed and went to work. Here is a photo journal of my day.
I started out my Saturday like any other Saturday. With a nice hot cup of coffee. I made it extra strong this morning because I thought I should be more alert.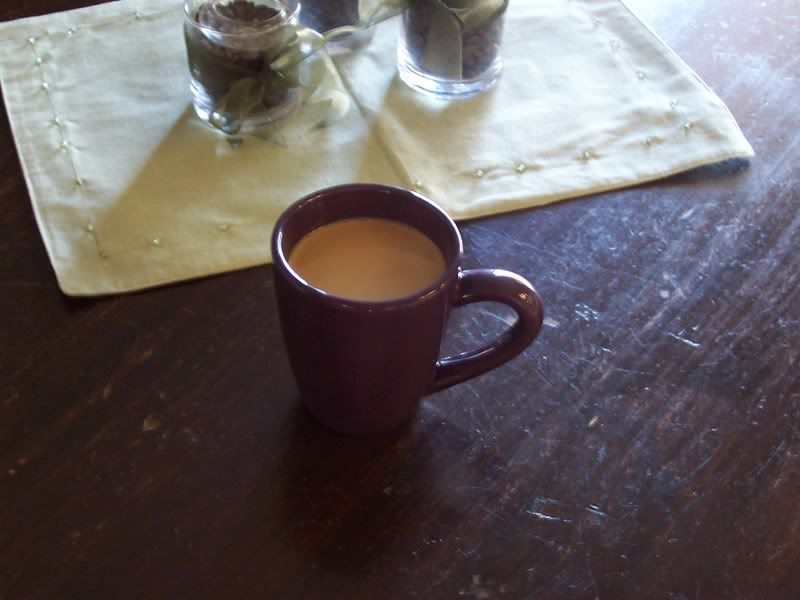 After my morning refreshment, I got all the stuff that I needed together.
then put everything into the bowl, mixed it a little bit and then took the dough out of the bowl to start the kneading process.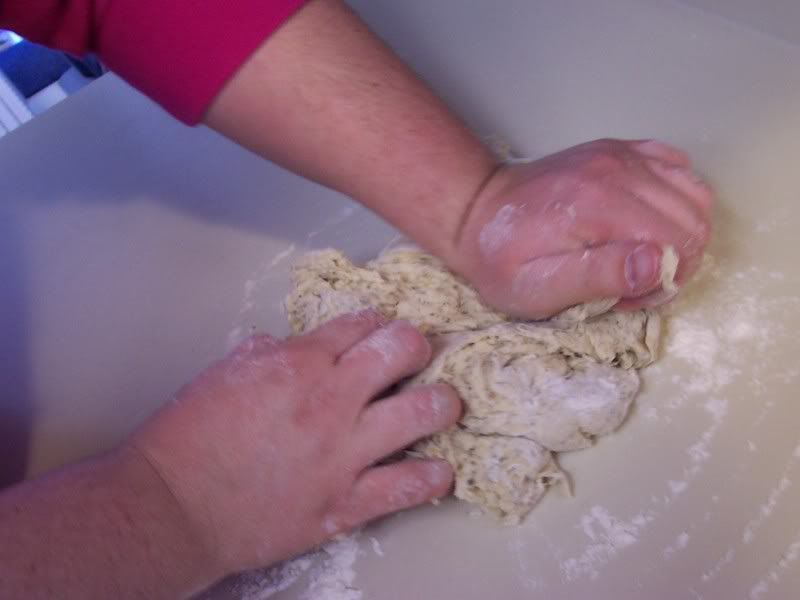 Eric thought he would be cute and get me in the action.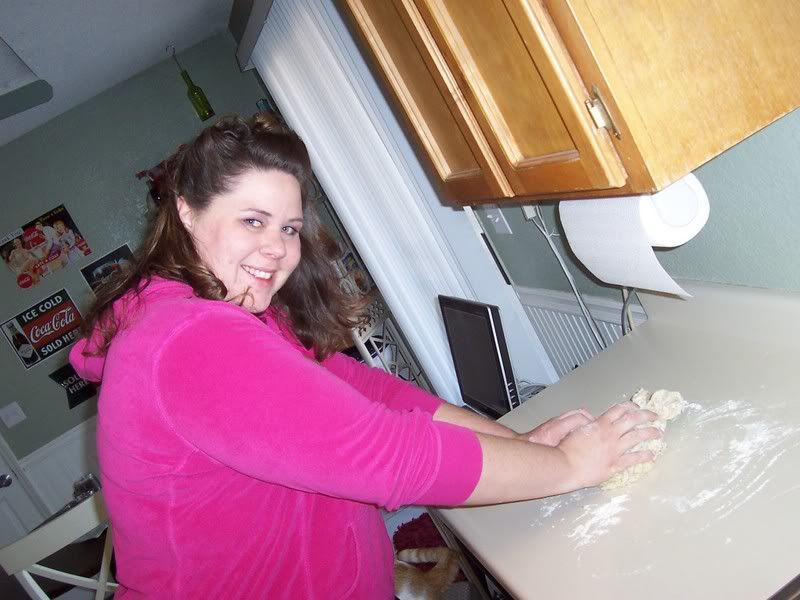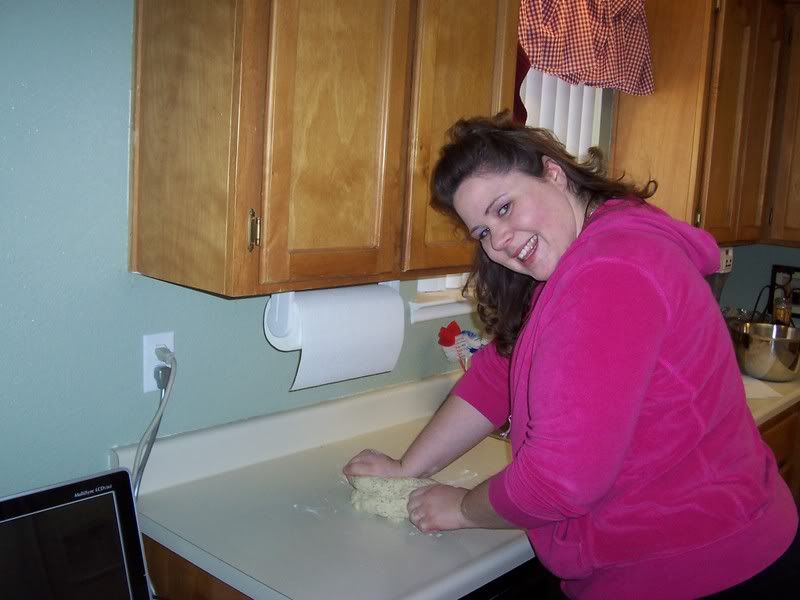 After I thought my hands were going to fall off, I decided I was done kneading the bread and put the dough into a bowl to rise.


Before I let it rise: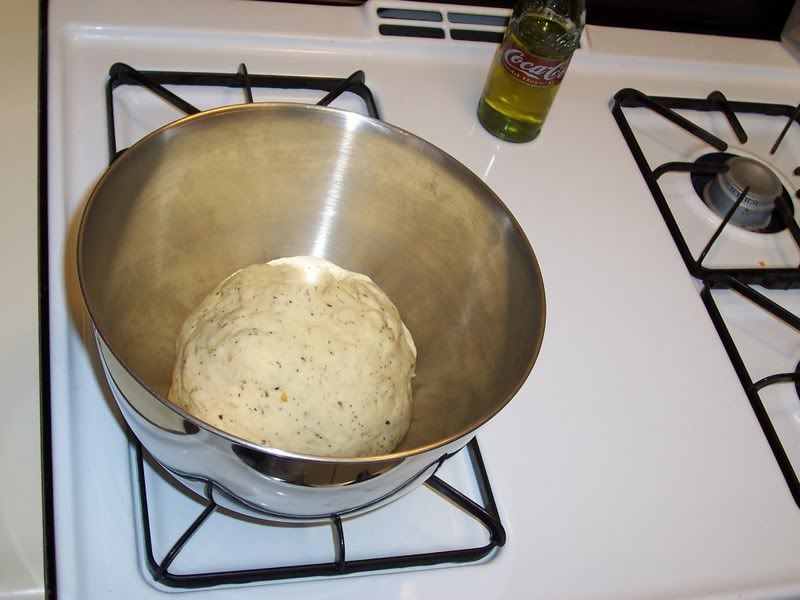 After I let it rise: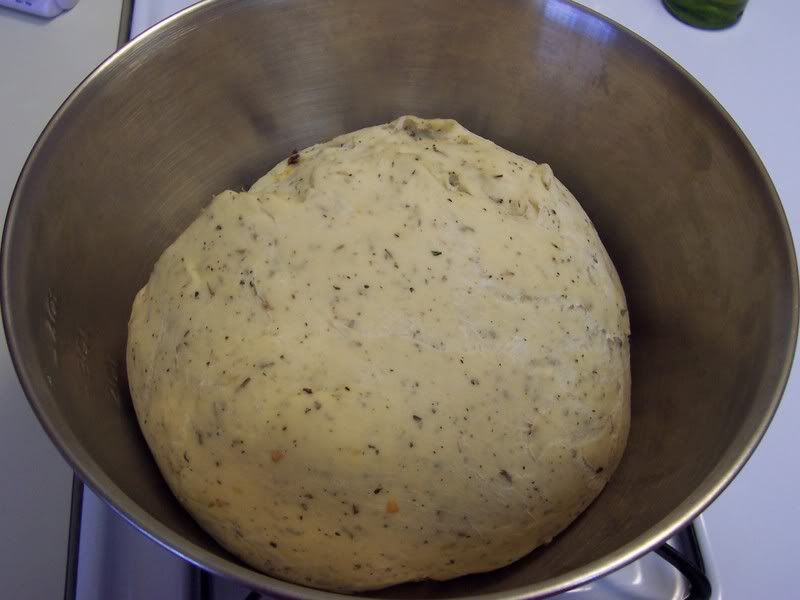 I let it rise one more time before I formed the dough into a loaf and cut slices on the top to make it pretty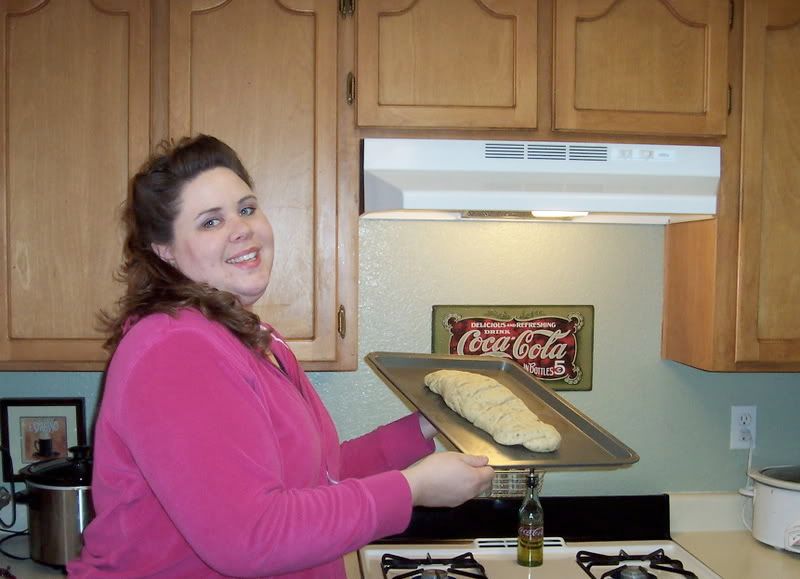 I let it bake for 20 minutes before I basted the top with an egg. Then I put in the the oven for another 10 minutes. It smelled so good as it was baking that I almost took it out too early! Here is the finished product that I thought I would model for you:


And here is a closeup: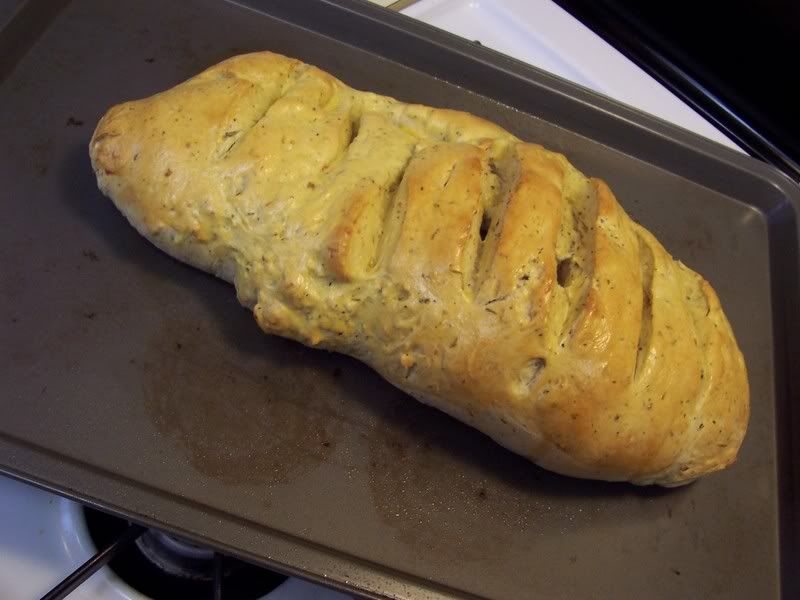 All in all I found that baking bread was very easy. It wasn't as hard as I thought it was. I can't wait to try it again with another recipe.
Here is the recipe for Bethany's bread
Italian Herb Bread
1 1/2 cups warm water
1 1/2 tbsp yeast
4 tsp melted butter or oil
2 tbsp sugar
1 tsp salt
1 tsp Italian seasoning
2 tsp dried basil leaves
2 tsp thyme
1 tbsp minced garlic
4 cups all purpose unbleached flour
1 egg, for glaze
Directions:
First, put 1 1/2 cups of warm water in a bowl
mix in 1 1/2 tsp yeast. Let it sit for about 3-5 minutes
Add 4 tsp of melted butter
Add 2 tbsp sugar
Add 1 tsp salt
Add 1 tsp Italian seasoning
Add 2 tsp dried basil leaves
Add 2 tsp thyme
Add 1 tbsp minced garlic
Slowly add in 4 cups of flour
Knead for 10 minutes
Let rise for 1 hour
Knead for a couple of minutes
Let rise 1 more hour
Knead for a couple more minutes
Form the dough into a loaf (I cut a few slices on the top to make it pretty)
Let rise another 15 - 20 minutes
Bake at 350 degrees for 20 minutes
Take bread out and baste with the 1 egg
Bake again for 10 minutes
Let cool, then slice
Enjoy!!
There you have it. A wonderful and easy bread recipe. Hey, if I can do it, anyone can!